The winter sports season has begun. Not the best time of year for photographers. Having to shoot indoors after the spring and fall seasons is kind of a drag. Last night I shot the North Branford girls basketball game at North Branford High. That gym is so dimly lit and it's tough to get enough light for your photos with just 1 on camera flash. So I decided to use 2 off camera flashes, 1 setup on the sideline at mid court aimed at the top of the key and 1 on the baseline corner, undeneath the hoop. Both triggered with pocketwizards. This created a nice cross light effect.
If you look at this photo you can see the light hitting the player from the top right and left.

If you look in the top right corner, that is where flash #1 is set up.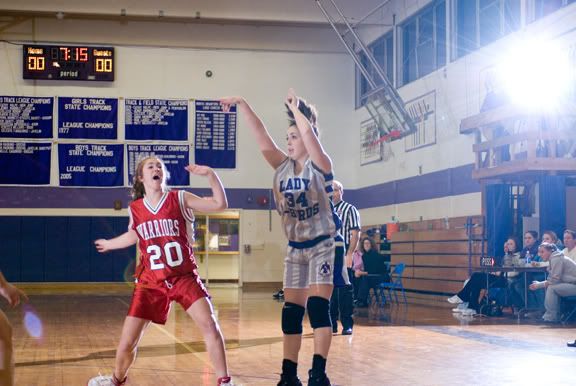 It certainly brightens up the dark high school gyms with this setup. I'll try and do some more experimenting in my upcoming games. This was the first time I actually tried this. You can find more photos on the Shore Publishing site.